Use an Argus Pig Valve For Pig Launching & Receiving. A true double-block and bleed valve that also allows pipeline pigs to be inserted or removed safely and conveniently.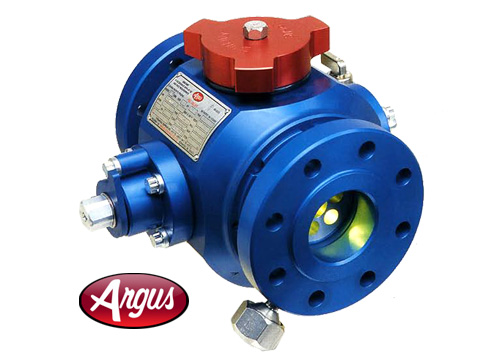 Argus Pig Valves
The Argus Pig Valve is considered one of the best pigging valves available utilized extensively on oil pipelines and gas flow pipelines around the world. This is an excellent alternative to the conventional pigging method and provides safe, operator friendly pig launching and receiving.
The Argus Pig Valve is a full bore double block & bleed valve with a trunnion mounted ball allowing for extended seat life and time saving quarter turn valve action. This design also allows for most Polly-pigs and Spheres to be launched from the pigging valve as well as custom Solid-Cast Turbo-Flow pigs.
The Argus Pig Valve is currently available sizes 2" through 12" in ANSI 150 up to 1500 with multiple and automated launching options for most valves.
Argus Pig Valves give you a double block & bleed valve that can send or receive pigs. Here are some recommendations on typical launching and receiving procedures.